Water Heater Repair & New Installation Services
Your Dreams come true with our Experience and Skillful Hand!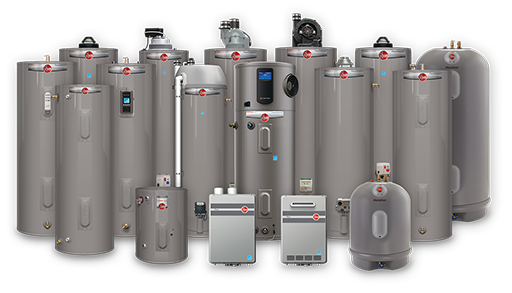 Water heaters are essential for a comfortable home, especially during cold weather. Signs that your water heater tank needs repair include insufficient hot water supply, strange sounds, leaks, and discolored water. To avoid inconvenience, have a professional inspect your unit at least once a year for any problems. Regular maintenance can help prevent expensive repairs in the future. If you suspect an issue with your heater tank, contact us today as we are licensed and can provide prompt assistance. Additionally, one of the most common problems with these units is a foul smell coming from the hot side of your faucet. It's a good idea to call us right away, before the problem gets worse. Also, it is important to check for any corrosion or rust around the tank, as this can indicate potential problems with the unit. Another common repair is a faulty thermostat, which is the #1 cause for needed service. The T&P relief valve is another component that can go bad and require replacement. The hot water pressure is lower than it used to be.
Hot Water Heater Services
New installations come with a warranty and we offer services that can maintain, repair, and even replace the unit when needed. Complex issues like fixing a faulty thermostat or replacing a broken heating element are also services we can provide. In some cases, upgrading to a newer, more efficient heat pump model, such as an air conditioning unit, is recommended for energy conservation and cost-saving.
Can Solar panels Save Money with Your Hot Water Heater Bill?
Installing a solar panel can be a great way to save money on your electric bill and also contribute to energy efficiency. Most panels are capable of keeping the water in a tank hot, similar to a conventional heating unit but at a lower cost. Before investing, it's important to consider its energy efficiency, which plays a significant role in the amount of hot water produced and how much you pay for utilities. Ultimately, choosing the right electrical unit, depends on your preferences and budget. If you are not sure what your Home or Office needs, we offer a wide variety of electric and gas, heating solutions. Tank-style heaters range in size from 20 gallons to over 100 gallons, with a 40-gallon tank being the most common for a two-person household. Homes with more than five people may require a larger tank, such as a 60-gallon or 80-gallon unit. To optimize your heater's performance and reduce energy consumption, it is recommended to spread out dishwashing and laundry to different times of the day instead of doing them simultaneously.
Bradford White & Rheem Hot Water Heaters Are Loved By Our Clients
Rheem and Bradford White are two of the most trusted brands in the market when it comes to choosing reliable heating solutions. Their gas or electric models have consistently delivered excellent performance and customer satisfaction. Rheem, a company with more than a century of experience, has established itself as a leading provider of high-quality heating solutions for homes and businesses throughout the United States. With an unwavering commitment to innovation and customer satisfaction, Rheem offers a wide range of products that are designed to meet the unique needs of its customers. Whether you're looking for a new heating system or need maintenance and repair services for an existing one, Rheem has got you covered. Its expertise in the industry has helped it build a reputation for excellence and reliability, making it the go-to choice for many homeowners and commercial property owners alike. Similarly, Bradford White has been a pioneer in the industry since 1881, offering a range of innovative products that are not only energy-efficient but also cater to the unique needs of their customers. With over a century of experience, Bradford White has established itself as a trusted brand that provides high-quality solutions across various industries. Their commitment to innovation and sustainability is reflected in their extensive portfolio that includes residential, commercial, and industrial heaters, boilers, and storage tanks. Moreover, they offer exceptional customer service and support to ensure that their clients get the best possible solutions for their specific requirements.
Choosing a reliable brand is essential for homeowners and professionals alike, and Rheem and Bradford White have become popular choices due to their exceptional reliability. These brands have built their reputation over time by offering high-quality products that are durable, efficient, and cost-effective. They also provide excellent after-sales service, making them a favorite among customers. Whether you're looking for a unit for residential or commercial use, Rheem or Bradford White is an excellent choice due to their quality products, customer support, and long-standing reputation in the industry.
If you're encountering problems with your heater appliance in Benicia | Clayton | Concord | Pacheco | Vallejo | Walnut Creek | Pleasant Hill | Martinez and nearby cities, it is time to get in touch with us as we are the number 1 certified HVAC water heater repair technician. Our team of water heater repair experts are highly skilled and we are available to service multiple nearby cities. We are one of the best in cost and offer a comprehensive range of HVAC services, including emergency service 24/7, installing, repairing, and replacing the unit, including storage tank heating, for both residential and commercial clients. Whether you require a new unit to be installed or your existing one repaired or replaced, we are the best Water heater Repair tech here to assist you. Contact us today and let our experienced HVAC tech handle all your appliance needs. With our services, you can also lower your utility bills while ensuring the functionality of this unit.
Do I need a Plumber when my hot water tank is leaking?
If you notice leaks in your tank, it's crucial to take immediate action to prevent further damage and mold growth. The cause of the leak could be due to corrosion or a faulty valve, among other factors. Calling an HVAC technician instead of a plumber can save you both time and money. A licensed HVAC technician can inspect the tank, locate the source of the water leaks, and provide the necessary repairs or replacement to ensure that your system is functioning correctly.
In addition to fixing the issue at hand, an HVAC technician can also conduct a routine maintenance checkup on your system. Regular maintenance checks can help identify potential issues before they become major problems and extend the lifespan of your HVAC system. By scheduling annual inspections with an experienced HVAC professional, you can potentially save yourself from costly repairs in the future.
In addition to fixing the leak in your HVAC system's tank, our water heater repair technician can also identify any other underlying issues that may be contributing to the problem. Poor insulation or incorrect sizing of equipment are common culprits and can cause your system to work harder than it needs to, resulting in higher energy costs. By evaluating these factors, our water heater repair technician can recommend solutions like adding insulation or upgrading equipment to improve your system's efficiency and reduce energy costs over time. Regular maintenance and tune-ups by a professional can also help prevent future leaks and prolong the life of your HVAC system. If the pilot light is off or the pilot flame is smothered behind the access panel, no heat may be created. In this case, you may need a new pilot light installed.
If your water heater is constantly leaking check the plumbing
Check for leaks in plumbing
Troubleshoot your water heater
If you see wet substance around the bottom of your unit, it might be leaking. One reason a tank might start to leak is that the metal tank inside rusts. If this happens, you need a new Bradford White & Rheem unit. Another cause could be if the drain valve at the bottom of the tank leaks. If this is the case, you may only need to replace a part.
How do you know when your water heater needs repair instead of replacement?
If your water heater is relatively new and the issue is minor, such as a faulty thermostat or a leaking valve, it may be worth repairing. However, if your heater is not working, you don't necessarily have to call in the pros. DIY electric water heater repair is an option, depending on the water heater problem. But first, you'll need some knowledge to diagnose your water heater problem. However, if your heater is old, inefficient, or has major issues like a cracked tank, it's usually more cost-effective to replace it with a new one.
Instant hot water with just a turn of the handle.
New Tankless Hot Water Heater Installation
NPE-A2 Advanced Condensing Tankless Water Heater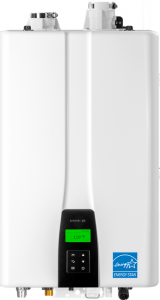 Voted #1 Tankless Hot Water Heater Installer Professionals
When your hot water heater goes out give us a call and let's talk about what fits your hot water needs.
Please call for maintenance/tune-up information.
Please call for warranty details.
We're here to help make your next project a breeze
Brands We Proudly Work With